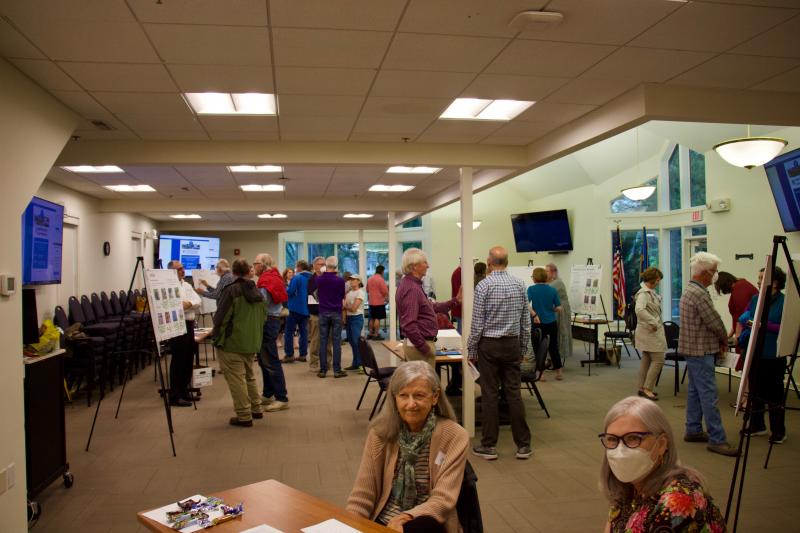 Lewes Workshop reveals concerns over flooding and short-term rentals
The final stage of the listening and learning phase of the five-year review of the Lewes Comprehensive Plan concluded on April 26, as the Rossi Group and the town held a public workshop.
Officials said turnout was high, with most people arriving early, eager to make their voices heard. Savannah Edwards, associate planner for the Rossi Group, said if people agreed, disagreed or neutral on a topic, the comments were positive and they gathered quality information. Participants were greeted with information about the review, as well as a tab of green, yellow, and red stickers to vote on each particular question.
Regulation was a common question from participants, and across a number of topics. The Historic and Cultural Station featured considerable commentary on city regulation and the expansion of historic structures and the historic district. Judging by the amount of yellow and red dots, many residents believed that more regulations needed to be put in place to protect historic structures. Conversely, when it came to expanding the historic district to include Lewes Beach, there were a few red dots against this proposal. The amount of green dots also in this section highlighted just how polarizing this proposal could become, if extended beyond the idea phase.
Affordable housing, a goal of the 2015 compensation plan, is something the city understands as a unique challenge to address given the characteristics of the city; however, options may still be available to achieve this goal.
"Discussions have focused primarily on some of the new options the city can take for housing," Edwards said. "Some of the concepts we talked about tonight feel like a type of intermediate housing that is missing. We have single-family housing and we have multi-family housing in the city. What are some of the other options that can be adopted, such as duplexes or the larger house [with multiple units]?"
Based on public votes, the majority of people liked most of the ideas proposed for affordable housing and for labor, but secondary suites – where someone rents a structure on the property – received mixed reviews. People were worried about the possibility of these spaces being converted into short-term rentals – another topic that was of great concern.
Janelle Cornwell, Lewes Planning and Development Officer, was on hand to answer questions about the proposed solutions.
Alternative energy sources and various green infrastructure programs became a hot topic as people discussed various solutions to improve public services with Rossi's Vice President Carter Hyde. Hyde said solar power seemed like a more palatable option than wind power – many people asked about the solar panel options currently available. Workshop participants seemed to agree on the need for permeable pavement, tree planting, and open spaces, but there were quite a few against a proposed rain barrel program.
Edwards noted that the environmental station witnessed a lot of foot traffic, with floodplain concerns being the dominant theme. Not a single red sticker could be found when it came to enforcing and enforcing regulations in the floodplain. Concerns about flooding were clear, but Lewes' location places part of the city in the floodplain, presenting a unique set of obstacles when work is needed in these areas.
The Rossi group will comb through the information gathered during the workshop. They will meet with a committee during the month of May to develop recommendations and assess policy positions based on feedback. Public input will be presented to the Lewes Planning Commission, then a draft narrative will be developed over the next few months before moving fully to the refinement stage in August.
The five-year review will be completed in October after it is passed by the mayor and city council following a pair of public hearings with the planning commission in August and with council in September.
Comments can be submitted and further information can be found at ci.lewes.de.us.361/Comprehensive—Plan-5-yr-Update. Comments can also be sent to Cornwell at [email protected]