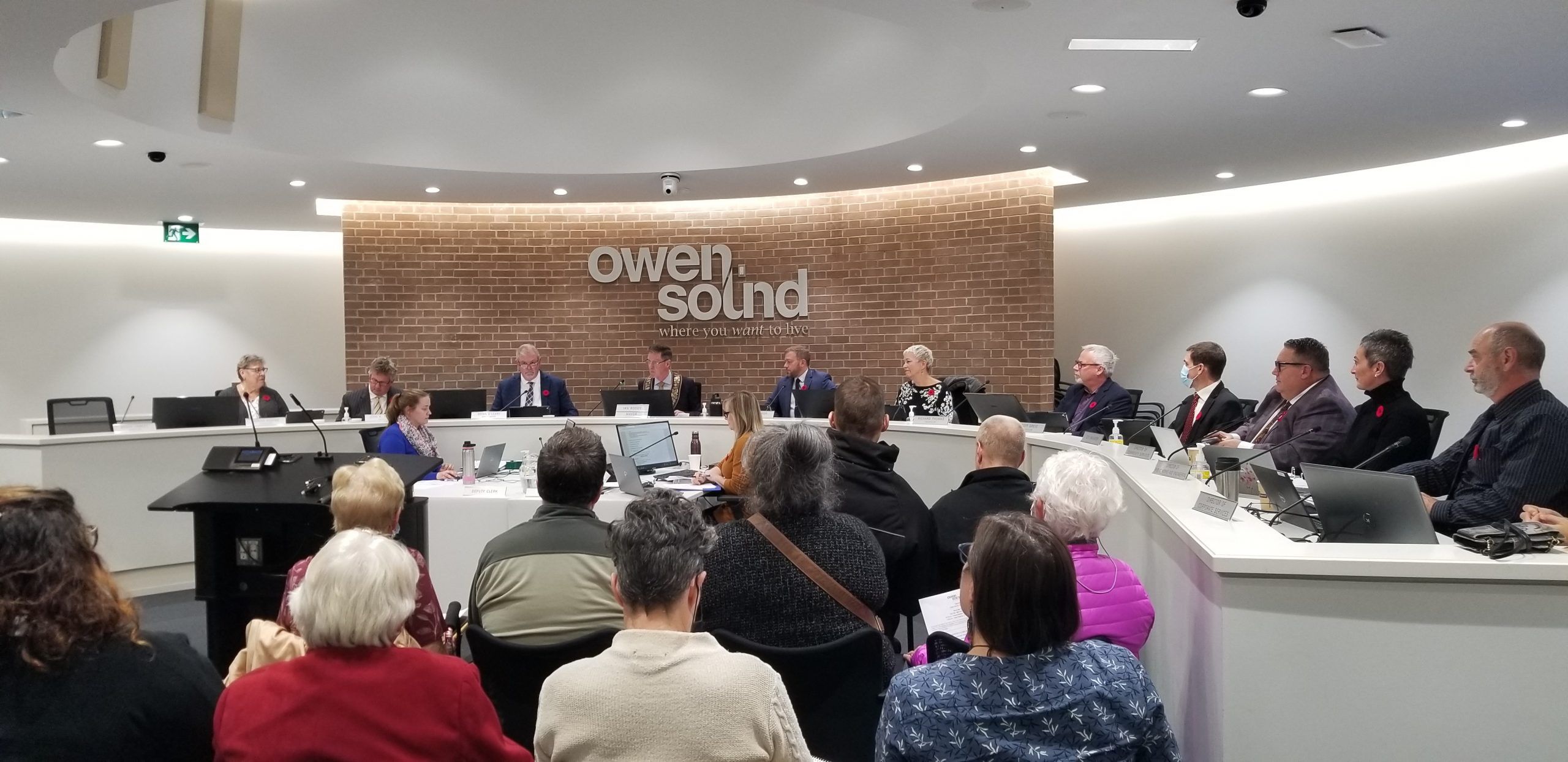 No more rentals offered, Telfer Creek gets extension, business licenses
Content of the article
Owen Sound Council has asked staff to continue processing an application to build rental apartments on empty land at 740 West 10th Street, roughly across from the Marlan Towers building.
Content of the article
A development request for this site has been submitted. It calls for an "eight-unit stacked townhouse development" with four units below and four units above.
At a public meeting on Monday, plaintiff's agent Jeff Buisman said the lower level would be accessible by a half flight downstairs, while the upper units are a half flight upstairs.
Marjorie Hallman, a neighbor, told council about her concerns about adding eight units because of the increased potential for more litter, which she and others routinely pick up along a right-of-way easement. She would like a 10 foot fence to be built.
Asked by Owen Sound resident Pat Kelly if the units would be affordable, Pam Coulter, the city's director of community services, said they were rentals but were referred to the developer, whose agent did not provide any rent estimate.
Content of the article
Buisman said the units would be "smaller in size" which are in high demand. These would be two-bedroom units, 975 square feet each, with no common hallway. There would be parking for 11 cars and a patio, both at the rear.
City staff will comment on the compatibility of the proposal with the city's strategic plan and policies in a report at the next council meeting. Council received a technical report from the planning department on Monday.
A zoning by-law amendment is sought to permit this new townhouse use, including to permit a reduced minimum lot frontage of 24 meters and a reduced lot area or total development parcel of 1,347 square meters.
It is zoned "Commercial West of Town" in the official plan and "Retail (C2)" in the zoning by-law. Current zoning allows one apartment.
Content of the article
City staff is also evaluating a request for site plan approval for this project.
* * *
City Council has extended approval of the Telfer Creek Subdivision Plan of Subdivision for three years.
Barry's Construction and Insulation Ltd., the last owner of the property, has been granted until November 18, 2025 to build the first phase of the residential development, unless the council grants a further extension.
For all subsequent phases, the expiry date will be five years after the final approval date of the previous phase, a report to the board said.
Pam Coulter, director of community services for the town, said she expects the developer to seek changes, and they will be considered through the usual process. The content of the first phase has not been specified, she said.
Content of the article
Initial Council approval gave Bremont (Owen Sound) Corporation permission to build 324 residential units: 43 single family, 20 semi-detached, 31 street-facing townhouses in 4-5 unit townhouse blocks , a 230-unit residential building with the possibility of a commercial floor on 20th Avenue East.
The property is immediately east of the Owen Sound Hospital, on 13.6 hectares or 33.6 acres of fields, meadows, hedgerows and a wide, shallow tributary to Bothwell Creek. It is on the north side of 8th Street East, while the future Redhawk Subdivision is on the south side of 8th Street East.
* * *
The City Council has approved the following business licenses:
– 14213475 Canada Inc. is the new owner of The UPS Store #429 located at 1565 16th St. E., Unit 3;
Content of the article
– Rexall Pharmacies Ltd. is the new owner of pharmacies located at 1507 9th Ave E., 1415 1st Ave. W. and 963 2nd Ave. E.;
– After Hours Financial, an in-home accounting and payroll service located at 1670 3rd Ave. W;
– Shaiqua Rahman Restaurant Limited to operate The Bee out of the Julie McArthur Regional Recreation Center at 700 10th St. E.;
– Hometown Sports Excellence, a sporting goods store located at 1063 2nd Ave. E.;
– Mint Fairy Market, a local retailer of crafts, clothing and natural products located at 273 9th St. E.;
-Happy Earth Sustainable Products, a retailer of eco-friendly children's products located at 1095 1st Ave. W.;
-Bob's Barber Shop, a hair salon located at 1041 2nd Ave. E.