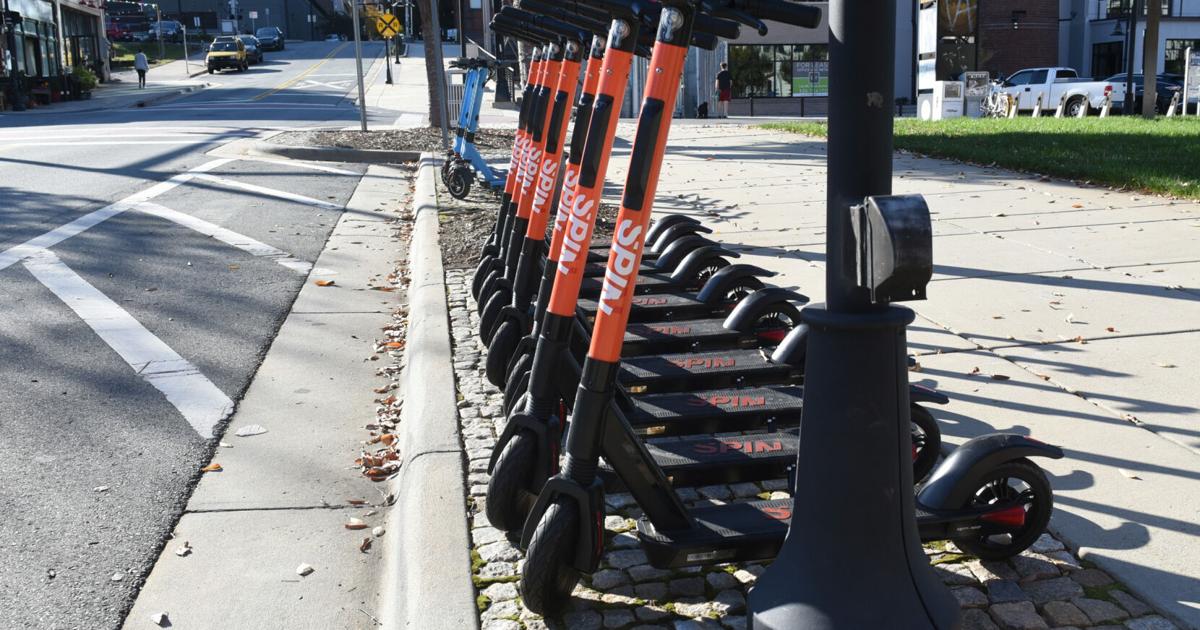 Spin out – for now; Winston-Salem Scooter Rentals on Break | Local News
Those ubiquitous – and sometimes boring – orange scooters are taking a winter break.
Spin, a San Francisco-based subsidiary of Ford Motor Co. that has offered electric scooter rentals in Winston-Salem since October 2020, is suspending service in the city until March.
Since local service began, the haphazardly abandoned scooters littering city sidewalks and blocking on-ramps have been a headache for pedestrians forced to maneuver around them.
Spin is looking to change that with a new and improved fleet.
The company plans to relaunch the service locally with next-generation, tech-ready equipment that detects when parked scooters present potential obstacles, said Matthew Burczyk, the city's bicycle and pedestrian coordinator.
Supply chain challenges are causing a delay in installing the technology, which will be added sometime after the new scooters roll out, he said.
In the meantime, the winter break "is a good opportunity for Spin to make the fleet change," Burczyk added. "They can take that time to reassess and be ready to ramp up in the spring."
January and February were by far the slowest months for scooter rentals in the city last winter, according to usage figures provided by Burczyk.
Spin's recommitment to operate in Winston-Salem comes at a time of transition for the company, which announced earlier this month that it was pulling out of many cities where it was not the exclusive supplier and that it laid off a quarter of its workforce.
"Spin will no longer compete in open permit markets that lack sensible regulations," company CEO Ben Bear said in announcing the changes. "These locations have permit market dynamics that make it difficult to identify a clear path to profitability. We have found that these free-for-all markets create an uncertain operating environment marked by frequent changes in the competitive landscape, no caps on fleet sizes, and falling pricing.
Competitive challenges were eliminated in Winston-Salem in October when Winston-Salem's only other scooter service operator, Blue Duck, pulled out of town.
Plug-in scooters are seen as a tool to limit the use of urban vehicles and reduce greenhouse gas emissions that contribute to climate change.
From Oct. 1, 2020, to Sept. 13, 2021, Winston-Salem runners logged nearly 5,000 combined trips via Spin and Blue Duck, according to Burczyk statistics.
These cyclists have covered more than 54,000 miles and spent almost a million minutes on scooters. The average trip covered 2.1 km and took 22 minutes.
May was the busiest month, followed by April and June. February, with only 193 trips, was by far the slowest usage month.
Scooters first appeared on the streets of Winston-Salem in August 2018, when a company called Bird dropped hundreds of them on city streets without warning.
City leaders responded by banning scooters from city streets, then set to work on regulations to cover their use. Scooters returned in the fall of 2019, only to disappear again with the rise of COVID-19.
Spin and Blue Duck went through an application process before obtaining permits from the city.
John Deem covers climate change and the environment in the Triad and Northwestern North Carolina. Her work is supported by a grant from the 1Earth Fund and the Z. Smith Reynolds Foundation.
336-727-7204